Broken Bones on Cruise Ship Excursions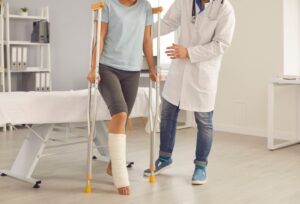 Every year, an untold number of passengers leave their cruise ships with serious injuries, often caused by the negligence of the cruise line or tour operators. If you or a loved one suffered broken bones while on an excursion during a cruise, seek help from an experienced cruise ship injury lawyer immediately.
A cruise ship excursion injury lawyer will review your case and determine if the tour operator or the cruise line is liable for your injuries. They can then pursue compensation for your medical bills, lost wages, and pain and suffering on your behalf.
At Louis A. Vucci P.A., we have helped many cruise ship accident victims like you, including many who suffered broken bones on shore excursions. Don't wait to get the lep you deserve. Contact Louis A. Vucci P.A. at (786) 375-0344 for a free legal consultation.
Broken Bones From Cruise Ship Excursions
Cruise ship excursions often involve snorkeling, zip lining, parasailing, and other physical activities that increase the risk of an accident causing broken bones. When people book an excursion through a cruise line, they reasonably expect the cruise line to partner with competent third-party companies, provide adequate security and transportation, and take other reasonable precautions to keep them safe. Too often, though, innocent people find themselves contending with reckless drivers and operators, inadequately maintained vehicles and equipment, and inherently dangerous tour sites. Many of these safety threats arise from a cruise line's failure to warn of risks, maintain equipment, or train staff adequately. These dangers could have catastrophic consequences and irreparably harm cruise travelers.
Anyone taking part in a cruise ship excursion faces the risk of an injury, but older passengers and those with physical limitations are at an even greater risk. Children are also at risk of broken bones on excursions, so parents must pay close attention to their children during these activities.
Types of Cruise Ship Excursions and Potential Dangers
Before going on any cruise ship excursion, passengers should familiarize themselves with the potential risks and take the proper precautions. Common types of cruise ship excursions that may pose a risk for broken bones include:
Bus tours – Bus tours allow tourists to explore a new city or scenic destination, but they can also be dangerous. Injuries may occur due to improperly maintained buses or reckless driving.
Parasailing – High winds and other weather conditions might cause a parasail to veer off course, while inadequately maintained equipment presents a crash risk.
Jet skiing – Jet skiing is quite dangerous if the rider isn't given the proper training or adequate safety guidelines. Always wear a life vest when jet skiing and avoid shallow waters and other hazards.
Banana boat tours – Banana boat tours offer a fun way to explore the ocean, but they can be dangerous in the wrong hands. An inexperienced operator might hit rocks or other obstacles in the water, while boats are also at risk of capsizing or sinking in high winds or choppy waters.
Snorkeling and scuba diving – Scuba diving or snorkeling excursions should only be led by trained divers. Guests should respect warnings from their tour guide and be mindful of ocean currents and hazards like coral reefs, jellyfish, and other creatures.
Zip lining – Zip-line riders may suffer broken bones if their harness is worn out, they do not receive proper instruction, or the line breaks.
Cruise ship passengers should understand the risks associated with each type of excursion before participating in any activity. Wearing protective gear and following all safety procedures helps reduce the risk of suffering broken bones during any cruise ship excursion.
How to Avoid Getting Hurt on an Excursion
Before participating in any excursions, you should consider the possible risks. Most are safe and enjoyable, and taking precautions can minimize your risk of a broken bone injury. Here are a few tips on how to stay safe on your next cruise ship excursion:
Follow the rules – Before you begin your excursion, read any safety rules and regulations and follow them closely. Pay special attention to any age or size limits on certain activities, and avoid attempting activities not recommended for your age or fitness level.
Stay aware of your surroundings – Pay attention to your environment and potential hazards. For instance, if you're going on a boat ride, be mindful of where you're stepping and any potential hazards, such as slippery surfaces or strong currents.
Wear protective gear – Always wear protective gear when engaging in potentially dangerous activities, including helmets, life jackets, or other items that help protect you in case of an accident.
Stay hydrated – Drink plenty of water during your excursion to prevent dehydration and heat exhaustion. This is especially important when participating in strenuous activities.
Wear appropriate clothing – Make sure you wear appropriate clothes for the activity you're participating in. For example, wear sturdy shoes and clothing that won't impede your movement if you're hiking.
What to Do If You Are Injured on an Excursion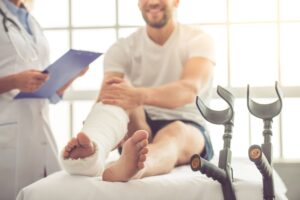 Unfortunately, no amount of preparation and precaution can eliminate the risk of a broken bone while on a cruise excursion. Take these steps if you or someone in your party suffers an injury:
Immediately seek medical attention if necessary – If you believe the injury involves a fracture, do not wait to seek medical attention. These injuries are serious and require immediate attention.
Report the accident – You should report the accident to the tour operator or the cruise ship personnel. Provide detailed information about the accident and your injuries so they have a clear understanding of what happened. In addition, keep copies of any reports or statements that you provide them.
Document everything – Make sure you document everything related to your injury. Take pictures of the accident scene, your injuries, and anything else that may be relevant. This helps create a clearer picture of what happened and serves as evidence for your claim.
Speak with a cruise ship injury lawyer – Get in touch with a personal injury lawyer who has experience handling cruise ship injury claims. A lawyer will advise you on your rights and help you pursue the compensation you deserve for your injuries.
Types of Broken Bones
Bone fractures come in many different types, each requiring a specific treatment plan. Some of the most common include the following:
Simple fractures – A simple fracture is one that does not penetrate the skin.
Open fractures – Open fractures occur when the bone penetrates through the skin. This type of fracture requires immediate medical attention due to the risk of infection.
Incomplete fractures – Incomplete fractures involve breaks that occur along the length of the bone but don't extend all the way through it.
Complete fractures – Complete fractures extend all the way through the bone, from one side to the other, effectively breaking the bone into two pieces.
Hairline fractures – Hairline fractures are very small cracks in the bone.
Displaced fractures – Displaced fractures involve broken pieces of bone out of their normal alignment.
Comminuted fracture – A comminuted fracture occurs when the bone breaks into more than two pieces. These types of fractures often require surgery to repair.
What Is the Average Cost of Treating Broken Bone Injuries?
Treating a broken bone can be costly. Surgeries, diagnostic tests, medical prescriptions, ambulance rides, physical therapy, hospital stays, and follow-up appointments can add up. These costs are often exacerbated by lost wages from being unable to work during recovery.
How a Cruise Ship Injury Lawyer Can Help
If you or a loved one has suffered a broken bone injury on a cruise ship excursion, you may be entitled to compensation. An experienced cruise ship injury lawyer can help you pursue the full and fair amount you deserve.
Here are some of the ways a cruise ship injury lawyer can help:
Investigating the accident – A cruise ship injury lawyer investigates the circumstances of your accident and any injuries that resulted. They will review relevant documents, interview witnesses, and assess the property and liability issues associated with your accident. Your lawyer then uses this information to build a strong case on your behalf.
Negotiating with cruise lines – Cruise lines want to avoid paying out damages to injured passengers. An experienced lawyer negotiates with the cruise line and its insurers on your behalf toward a fair settlement for your injury.
Representing you in court – If negotiations with the cruise line fail, your lawyer will take your case to court and represent you in court proceedings, present evidence on your behalf, and argue for your right to compensation.
Keeping you informed – Throughout the entire process, your cruise ship injury lawyer will keep you up to date on the status of your case. They will also explain any legal options available to you and answer any questions you have about your case.
Speak With a Cruise Ship Excursion Injury Lawyer
If you suffered a broken bone while on a cruise ship excursion, you could be entitled to compensation. At Louis A. Vucci P.A., our attorneys represent clients injured due to negligence while on cruises and fight for accountability on their behalf. Call us today at (786) 375-0344 for a free consultation with a cruise ship excursion lawyer and learn more about how we can help.