Tender Boat Malfunctions
When you're on a cruise, the last thing that crosses your mind is a malfunctioning tender boat. However, those malfunctions occur all too often, and many cruise ship passengers suffer severe injuries due to tender boat accidents each year.
You might be eligible for compensation if you suffered an injury due to a tender boat malfunction. From building your case to representing you in court, the cruise ship injury lawyers of Louis A. Vucci P.A. help injured people pursue the compensation they deserve for injuries sustained on a cruise ship. Call us today at (786) 375-0344 for a free case review with a tender boat injury lawyer.
What Is a Tender Boat?
A tender boat is a smaller vessel typically used by cruise lines, including Royal Caribbean, Carnival, and Norwegian Cruise Line, transporting passengers and goods between the shore and the larger ship. Tender boats come in various sizes, ranging from eight to 40 meters long, and easily fit into smaller ports. Cruise lines and their contractors use these vessels for multiple purposes, including sightseeing, transportation to shore excursions, and as an emergency evacuation resource in the event of an emergency. Even though most tender boats are a safe and reliable mode of transportation, accidents occur due to mechanical failures, operator error, or negligence.
How Do Tender Boat Malfunctions and Accidents Happen?
Cruise lines commonly use tender boats to transfer passengers between the main vessel and a port. While most trips on tenders are uneventful, accidents do happen, and some lead to severe injury or even death. Tender boat malfunctions and accidents occur because of:
Gaps between the ramp to the tender and the tender itself (the gangway)
Broken or malfunctioning gangways
Improper or malfunctioning tender boat storage causing the tender boat to fall and injure passengers
Fires or explosions due to fuel leaks on tender boats
Collisions due to defective tender boat steering systems
Tender boat accidents caused by engine or electrical failure
What Are Common Causes of Tender Boat Malfunctions and Accidents?
Some of the most common causes of tender boat malfunctions and accidents include:
Poor maintenance: Improperly maintained vessels are unsafe to operate. Failing to check the fuel tank, not changing the oil regularly, or not conducting regular inspections can all lead to tender boat malfunctions and accidents. Maintenance isn't restricted to the inner workings of the tender.
Equipment failure: Malfunctioning or defective equipment also leads to tender boat accidents. Examples include an engine suddenly shutting down or a defective steering system causing the boat to spin out of control or collide with a boat or another object.
Operator error: Operator error is one of the most common causes of tender boat accidents. This includes inattention, negligence, and improper operation of the vessel. Operators must adhere to safety protocols and all safety laws when operating vessels.
Unsafe loading and unloading: Improperly loading or unloading people and cargo onto a tender boat can lead to an accident.
Weather conditions: Extreme weather conditions such as high winds, heavy rain, or rough seas can contribute to tender boat accidents. Operators must pay attention to the forecast, take appropriate precautions, and be aware of any warnings issued by local authorities regarding hazardous weather conditions.
Who Is Liable for a Tender Boat Malfunction or Accident?
When determining liability in a tender boat accident, pinpointing who is responsible can be challenging. Generally, liability depends on who owns and operates the tender.
If the cruise company owns and operates the tender, it is liable for any injuries caused by its negligence. However, many cruise companies contract the operations of tenders to third-party operators. In such cases, the operator may be responsible for any accidents or injuries resulting from their negligence.
Additionally, cruise companies often put lots of fine print on tickets and make passengers sign waivers to limit liability. Because of this, even those harmed in an accident due to the cruise line's negligence may still find it difficult to hold them responsible.
Suing a cruise line is no easy task. They are large corporations with significant resources and legal teams who are experts at protecting their interests. For this reason, victims of tender boat accidents should seek experienced legal counsel right away, so they have the best chance of recovering fair compensation for their injuries.
Tender Boat Malfunction Injuries
Tender boat malfunction accidents often result in severe injuries for cruise ship passengers and crew members. Common injuries resulting from a tender boat malfunction include:
Head and neck injuries due to whiplash or blunt force trauma
Back injuries such as fractures, herniated discs, and spinal cord injuries
Burns from coming into contact with hot surfaces such as exhaust pipes or machinery
Broken bones or fractures from being thrown around inside the boat
Soft tissue injuries from being slammed against the side of the boat or other objects
Internal bleeding and organ damage caused by blunt force trauma
No matter what type of injury you sustained due to a tender boat malfunction, consult with an experienced maritime lawyer to discuss your legal rights and options. A maritime lawyer will review your case, assess any potential claims you may have against the vessel or its operator, and pursue the maximum financial compensation for your injuries.
What Types of Compensation Can Tender Boat Malfunction Victims Recover?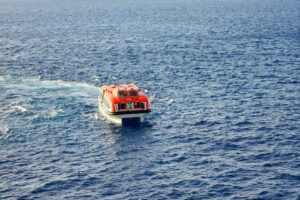 When a tender boat malfunction occurs, victims and their families may be entitled to seek compensation for losses associated with the accident. Depending on the details of the incident, victims may be able to recover compensation for a variety of losses that resulted from their injury, including:
Medical expenses
Future medical expenses
Lost wages
Lost earning capacity
Pain and suffering
Loss of enjoyment of life
Wrongful death
Loss of consortium
Property damage
Why Do I Need a Tender Accident Lawyer?
Tender boat malfunctions and accidents may happen more often than cruise passengers realize, and injured victims may face difficulties navigating the claims process. An experienced attorney guides cruise ship injury victims through every step of pursuing compensation, from filing the initial claim to negotiating with insurance companies for a higher settlement. Ways in which a tender boat accident lawyer helps include:
Investigating the accident and determining liability
Identifying other liable parties, such as product manufacturers or boat operators
Filing a claim for compensation with each potentially liable party
Handling all communications with the insurance companies or at-fault parties on your behalf
Negotiating with insurance companies or the cruise line for maximum compensation
Representing your interests in court if necessary
Guiding you through the legal process step by step
Negotiating liens for medical bills
Regularly communicating with you about the status of your claim
What to Do After a Tender Boat Malfunction Accident
After suffering injuries in a tender boat malfunction accident, you may face unexpected medical bills and likely feel overwhelmed and uncertain about your next steps. However, whether a defective product, operator negligence, or other circumstances caused the accident, you should understand your rights and take appropriate action.
Seek Medical Attention: After any tender boat accident, your first priority should always be to seek medical attention. Even if you don't think you've suffered any serious injuries, it's important to get checked out by a doctor and ensure that any underlying issues receive a diagnosis and treatment right away.
Take Photos of the Scene: If possible, take photos of the scene and document any physical evidence that could help prove what happened. Examples of physical evidence include pictures of the damaged boats and property and any visible injuries you or others suffered.
Gather Witness Contact Information: If there were witnesses at the scene, make sure to get their contact information. Your lawyer could call on them later for an official statement about what happened.
Contact a Tender Boat Accident Lawyer: Contact a qualified tender boat accident lawyer who can help you understand your rights and determine whether you have a case against those responsible for the accident.
File a Claim: Finally, file a claim with the responsible party or parties to pursue compensation for your injuries. Your attorney can help you with this process and ensure all deadlines and requirements are met.
Taking the proper steps after a tender boat malfunction accident greatly affects the outcome of any potential injury claim. By seeking immediate medical attention, collecting evidence, and contacting an experienced attorney, you can increase your chances of receiving fair compensation for your injuries and losses.
Speak with a Tender Boat Malfunction Lawyer
If you suffered an injury in a tender boat malfunction accident, the best course of action is to speak with a knowledgeable tender boat injury attorney. The lawyers at Louis A. Vucci P.A. are experienced in handling tender boat malfunction accident cases and can help you through the complexities of the legal process, from initial investigations through settlement or trial.
Our attorneys have years of experience handling all types of cruise ship injury cases and can help you fight for the compensation you deserve. Contact Louis A. Vucci P.A. today by calling (786) 375-0344 for a free consultation with a tender boat malfunction lawyer.