Cruise Ship Ramp Collapse Lawyers
A trip on a cruise ship offers the serenity of sailing on the open seas with all the amenities of home and more. It takes you to far-away, fascinating places, letting you make a memorable experience or cross something off your bucket list.
Onshore excursions are one of the most enjoyable facets of a cruise ship adventure. Many passengers book a cruise with the primary goal of traveling by sea to a location they have always wanted to visit. When passengers leave the ship to go ashore, the cruise line is responsible for keeping them safe during any transfers to and from the cruise ship. This responsibility includes making ramps and gangways safe for anyone using them.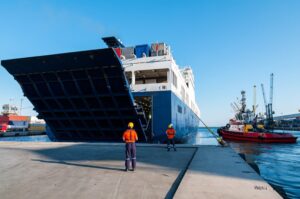 Recently, a ramp collapse accident occurred on a Norwegian ship, the Encore, while the ship was docked in Panama. One witness tweeted that the gangway going from the pier to the ship was very high and steep, with no support underneath. In 2003, a gangway on the Queen Mary 2, the world's largest cruise ship, collapsed, killing 13 and injuring 32.
Ramp collapse accidents rarely occur without causing some serious harm. These types of accidents can cause tragic, life-altering injuries. If you have experienced an injury due to a ramp collapse, you can hold a cruise line accountable for your injuries and pursue compensation for your losses due to the cruise line's failure to use reasonable care.
If you or a family member has suffered injuries in a ramp collapse accident on a cruise ship, Louis A. Vucci P.A. can help you seek compensation for the losses caused by this unfortunate accident. When a cruise line fails in its duty to keep passengers safe, you need a lawyer with a deep knowledge of maritime law and experience in litigation against cruise lines. Call (786) 375-0344 or contact Louis A. Vucci P.A. for a free consultation today.
A Cruise Ship's Responsibility for the Safety of Its Passengers
Maritime laws impose a duty upon cruise ships to keep passengers safe. When a cruise ship uses equipment, such as a ramp or gangway, that works improperly, it is responsible for any damage caused by its failure to set up, maintain, repair, or operate this equipment.
Like any piece of equipment, if you set it up correctly, a ramp should perform its intended function: supporting the collective weight of many people at once. When a ramp collapses, it is usually because the cruise line has failed to perform some necessary action for its maintenance and operation. As a result, the cruise line is usually responsible for most ramp collapse accidents.
Maritime laws impose a duty on cruise lines to keep passengers safe when they board and leave the ship, regardless of who installed the ramp or gangway. Cruise ships depend on crew members to organize and manage the safe transfer of passengers to and from the vessel. During a single cruise, a ship may have to move passengers on and off the ship several times. Crew members must have special consideration for elderly and disabled passengers since they are more prone to injuries during these transfers.
Going from the cruise ship to port often entails the cruise line staff and crew moving many passengers quickly. Most major cruise lines operate ships with between 2,000 and 4,000 passengers. Crew members can only move a specific number of passengers at once, especially when moving larger groups. Passengers must usually wait on a gangway or ramp until it is their turn to board the cruise ship or other craft taking them to or from shore. Hundreds of people and their luggage can overload a gangway or ramp, causing it to collapse.
Causes of Cruise Ship Ramp Collapses
Cruise ship companies are legally responsible for ramp collapse accidents when they:
Fail to address and investigate apparent or reported operational or safety issues with the ramp
Fail to install, use, and secure the ramp properly
Fail to keep the ramp in a state of good repair
Fail to replace the ramp after it shows substantial signs of possible failure
Fail to warn passengers of hazards or other issues with the ramp
These hazards may happen in tandem with each other. For example, the failure to maintain the ramp may necessitate advising passengers of a dangerous condition. However, the cruise ship may additionally breach this duty by failing to warn passengers of the dangerous condition. In these cases, if a passenger is hurt, the injured passenger has the right to seek compensation.
Injuries suffered on gangways usually arise from falling or other passengers pushing you as they fall. Slip and fall accidents occur anywhere, including on a wet cruise ship gangway or ramp. Slips and falls are the most common accidents on cruise ships and onshore.
Cruise ships must regularly inspect ramps and gangways to ensure they are safe. All walkways on a cruise ship must comply with local, foreign, and international maritime laws. These rules and regulations require cruise ships to use handrails, non-skid surfaces, risers, and treads to make ramps, gangways, and walkways safer.
Ships must keep records of safety tests that indicate compliance with regulations set forth by laws and agreements such as the International Convention for the Safety of Life At Sea (SOLAS). Cruise ships usually have several alternative options for documenting compliance of their onboard equipment with these requirements.
Injuries Caused by Ramp Collapse Accidents
Injuries resulting from gangway accidents include:
Fractures
Severe cuts and lacerations
Muscle sprains, strains, and tears
Closed head injuries
Traumatic Brain Injuries (TBI)
Back, neck, and spinal cord injuries
Drowning
Compensation Available for a Ramp Collapse Injury
Accident victims typically base a claim for harm they sustained in a ramp collapse accident on the carelessness of the cruise ship and its employees. To succeed and get the compensation you deserve for your injuries, you must prove that the cruise ship breached some duty to act with reasonable care. You must also prove that you suffered some direct, measurable harm because the ship failed to act.
If you prove all these elements, you may receive compensation for your economic and non-economic losses.
Economic Losses
Economic losses include compensation for current and future medical expenses, lost employment income, and other out-of-pocket losses. These are losses you can objectively measure using a bill, invoice, or damage estimate.
Non-economic Losses
Non-economic losses include pain and suffering, loss of enjoyment, and emotional distress. These types of losses are harder to verify than the economic kind. They are more challenging to establish in a personal injury case.
How a Ramp Collapse Lawyer Can Help You Recover Compensation
Suing a cruise line for the harm you suffered as a passenger requires an intricate understanding of numerous U.S., international, and foreign maritime laws, regulations, and agreements. These laws can be complex and confusing. Understanding them requires years of experience handling maritime claims.
A seasoned, competent cruise ship injury lawyer has the investigative skills to gather and organize evidence to help you establish a successful compensation case. They have the grit and fortitude to aggressively stand toe-to-toe with cruise lines armed with seemingly endless legal resources to fight your claim.
A cruise ship lawyer experienced with handling claims based on cruise ship accidents, including ramp collapse accidents, can utilize experts with the necessary skill to determine who and what caused the accident. They can also help you accurately estimate your losses to allow you to pursue full compensation.
Why Choose Louis A. Vucci P.A. if a Ramp Collapse Caused You To Suffer Injuries
How do you choose a lawyer who can help you seek and receive compensation for the harm you suffered in a ramp collapse accident?
Many attorneys claim to have the experience necessary to help you file a personal injury claim for personal injuries. However, consulting an attorney with vast experience handling claims against cruise lines is crucial.
At Louis A. Vucci P.A., we focus exclusively on cruise ship law. Our team represents passengers and crew members alike for the harm these individuals suffer at the hands of a cruise line company. We have over two decades of legal experience litigating and settling cases against cruise lines and have secured millions of dollars in awards for our clients.
Contact Our Ramp Collapse Attorneys
When you take a cruise, it should create only fond memories. However, an enjoyable cruise can take an ugly turn when an accident occurs. Unfortunately, a ramp collapse accident can result in costly, catastrophic, long-term injuries. If a cruise ship's carelessness caused you to suffer some direct harm, it is critical that you seek complete compensation for your injuries.
If you or someone you know has suffered injuries in a ramp collapse accident while a passenger on a cruise ship, contact the cruise ship injury lawyers at Louis A. Vucci P.A.. Call (786) 375-0344 or contact us online to arrange a free consultation. Our team will provide an evaluation of your case with no risk or obligation. We limit our practice area to cruise ship injury litigation and dedicate ourselves to fighting for the rights of clients who suffer harm on cruise ships.