Cruise Ship Injury Lawyers
---
Millions of people every year climb aboard cruise ships expecting a fun, relaxing time. These hot getaways are often family friendly, offering excitement for parents and kids alike. Other passengers choose cruise ships because they are relatively inexpensive, include onboard entertainment, and often stop at beautiful, exotic ports. Unfortunately, for far too many people each year, a serious cruise ship injury completely spoils the experience. Passengers and workers alike are vulnerable to a wide variety of dangers while they are out at sea or docked at a port. If the cruise line fails to ensure the safety of those aboard, people can be seriously injured.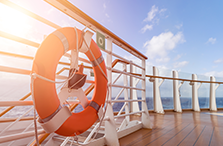 Free Case Review
Types of Cruise Ship Injury Cases
---
Cruise ships are home to unique vacation experiences, but sometimes the very features that make them appealing also hold potential danger. Being surrounded by beautiful ocean views can be relaxing and exciting, but the isolation of cruise ships means that emergency medical care might be far away. Additionally, cruise ships are responsible for the frequent maintenance and cleaning that will help make a large vessel safe for everyone on board. Cruise lines have to be particularly alert when it comes to preventing slip and fall accidents, drowning, and illness. Passengers can also be victimized by theft and sexual assault while out at sea or near a dangerous port. At Louis A. Vucci, P.A., we understand the particular threats faced by those aboard a cruise ship. We handle a wide variety of cruise ship injuries including:
Cruise lines have a serious obligation to make sure their ship conditions are safe and that any shore activities they oversee do not put people at risk. Whether your injury occurred on or off the cruise vessel, you can still seek damages from the party responsible.
Client Testimonials
Ryan Bockiaro
Louis is down-to-earth and will go out of his way to help you
Albert L.
I was injured on a cruise ship – I slipped and fell and injured my shoulder. I was not sure about the process and needed help. I had no idea about the difficulty in dealing with a cruise line. My attorney, Louis Vucci, handled my claim from beginning to end and guided me throughout. He […]
Jack
Firstly, I want to say a massive thank you to everybody at the Vucci Office! In particular – Karl, Millie and Raul . I was visiting from England and they couldn't have made me feel more welcome; They worked perfectly as a team to make me feel assured and made a hard time much easier. […]
K. K.
I broke my C4 vertebrae after suffering a fall on a Flow Rider excursion sold by Carnival Cruise Line. I was very fortunate to have Louis Vucci represent me in my personal injury lawsuit. Louis was extremely professional, knowledgeable and tenacious. He did an excellent job of asserting my claim against all responsible parties (including […]
Denise Grosdanof
My son broke his arm while participating in the onboard child care program. I approached other lawyers who turned down my case. I was about to give up and I decided to try one last time. I found Louis and I could not be happier that I did. Not only did he sympathize with my […]
Andrew Somer
I worked with Louis and The Vucci Law Group from an incident I had aboard a cruise ship. Louis was very candid, honest and sympathetic to my situation. He was thorough and worked on my behalf with the cruise line, insurance and medical companies. He kept me fully updated and informed every step of the […]
Betty A.
I had to have hip repair surgery because of a slip and fall on a cruise ship. Louis was very kind and professional. This was my first experience working with an attorney. He never tired of all my questions and answered truthfully and respectfully. He honestly understood my concerns and addressed every single one. I […]
See All Testimonials
Chat Live Now!
Online 24/7
Cruise Ship Injury Statistics
---
More and more U.S. citizens are opting to spend their vacations aboard cruise ships. The United States Coast Guard reports that there are around 200 overnight, ocean-going cruise ships across the world. The average cruise ship carries about 2,000 passengers and includes a crew of 950 people. The Coast Guard speculates that more than 23,000,000 people will be cruise ship passengers in 2017. Unfortunately, this incredibly popular vacation option comes with its fair share of risks and dangers.
44.8%
of injuries are caused by falls*
Cruise Ship Injuries and the Law
---
The law specifies that businesses and individuals alike have a serious obligation not to cause harm to others. This concept doesn't just apply to direct, malicious violence; it also means that we cannot behave negligently when that carelessness can seriously injure someone. For example, when a cruise line fails to maintain their diesel generators, this negligence can lead to serious injury. A faulty generator could start a fire that hurts a member of the crew or a passenger. Precisely because this accident was preventable and foreseeable, the injured party would be due financial compensation from the cruise line.
Cruise Ship Injury FAQs
---
Even in cases where it seems like your injury was completely accidental, the cruise line may be held legally liable. Many people who experience food poisoning on cruise ships assume that no one is technically responsible, but a skilled attorney can investigate your claim to see whether the cruise line kitchens were following proper food safety codes and procedures.
Generally, the damages you can receive are related to the severity of your injury and the recklessness of the party responsible. We have secured financial compensation of millions of dollars for clients in the past. The law realizes that injuries can be extremely costly. That's why you can recover money for: past and future hospital bills, physical therapy, medication, specialized medical treatment, counseling, lost work wages, required lifestyle changes, physical pain, emotional stress, and a variety of other injury-related costs.
Tragically, far too many people every year assume that the costs of their injury will be too small to warrant a legal case. Even a minor injury can wind up putting you in financial distress with follow-up medical checks and working days lost to recovery. The unfortunate truth is that you only have a short while after the injury occurs to seek legal reparations—generally one year. You may discover too late that you cannot handle the costs of your injury. If you have been injured on a cruise ship, you should consult with a legal professional as soon as possible. A skilled cruise ship injury attorney can discuss the specifics of your case and answer any questions you might have about the legal process. Often, seeking compensation is easier than people assume.
Our dependable legal team specializes in cruise ship injuries. While many other law firms claim they can handle the nuances and difficulties posed by cruise ship injury cases, we have the record of success to back up that claim. For example, we won $1,900,000 for a crew member who suffered from an internal hemorrhage. We secured over $100,000 for a passenger with a broken ankle. Another passenger who tragically suffered a traumatic brain injury received over $400,000 in damages. These are just a few examples from our long list of legal victories.
We understand that our clients have already been through a traumatic experience. That's why we strive to earn our clients' trust by communicating openly and honestly throughout the legal process. Additionally, you will not owe us anything unless we win your case, and we make our first consultation completely free.
Case Results
---
Below is just a sampling of some of the results from cases that Louis Vucci has participated in:
$1,900,00
Crew Member who suffered an internal hemorrhage.
$100,000+
Cruise passenger with broken ankle.
$400,000
Cruise passenger with traumatic brain injury.
$1,000,000+
Traumatic brain injury.
Contact A Cruise Ship Injury Attorney
---
If you or someone you love has suffered an injury during a cruise, you should seek legal counsel as soon as possible. Not only can getting hurt ruin your vacation, but the costs of an injury can put you in serious financial distress. You may be facing high medical bills, time lost working, physical suffering, emotional stress, and even serious lifestyle changes. According to the law, if someone else's negligence caused or contributed to your injury, you may be entitled to financial compensation.