Princess Cruise Ship Injury Lawyer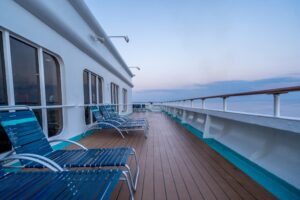 If you suffered an injury due to negligence on a cruise ship, turn to the qualified Princess cruise ship injury lawyers at Louis A. Vucci P.A.. A cruise ship vacation can be an exciting and memorable experience, but injuries can and do occur. It is not uncommon for passengers to experience serious injuries onboard a cruise ship like those operated by Princess Cruises.
Accidents and injuries can happen onboard any cruise ship, and our experienced attorneys want to advocate for you throughout the legal process. Our legal team is dedicated to helping those injured due to a cruise line's negligence. Contact us today at (786) 375-0344 for a free legal consultation with a qualified cruise ship injury lawyer.
Princess Cruises Injury Claims
Princess Cruises is owned by Carnival Corporation & plc, which operates 15 cruise ships out of Santa Clarita, CA. Like other cruise lines, Princess is not immune to injury-causing accidents. Cruise ship injuries can occur due to various causes, from improper ship maintenance to medical negligence. If you were injured on a Princess cruise ship by someone else's negligence, you have the right to seek compensation for your damages. It is important to understand the applicable laws and deadlines when pursuing a claim against a cruise line like Princess Cruises. Cruise ship injury cases follow different law than other personal injury cases.
Types of Princess Cruise Ship Accidents
Cruise ship accidents can range from minor to catastrophic. While the cruise line should take every precaution to ensure passenger safety, accidents still happen. Some of the most common cruise ship accidents include:
Slip and fall accidents: Injuries from a slip and fall can occur for many reasons, such as wet surfaces, spilled liquids or food, uneven walking surfaces, lack of guardrails or railings, and more. Passengers may suffer serious injuries such as broken bones, head injuries, sprains and strains, neck and back injuries, and even paralysis.
Bedbug injuries: When ship employees fail to follow proper hygiene procedures, such as washing sheets correctly, bedbug infestations can occur. This can lead to passengers receiving many itchy or painful bites.
Shore excursion accidents: Shore excursion activities may include parasailing, jet skiing, scuba diving, or zip lining. Injuries can range from minor cuts and bruises to more serious and life-threatening injuries such as broken bones, lacerations, and concussions.
Medical negligence: Medical negligence can also occur while on board a Princess Cruise Line vessel. Passengers may not receive proper medical care or advice from the ship's medical staff, leading to additional pain and suffering and more serious health issues.
Man overboard: Man overboard accidents are another common type of accident that can occur on a Princess Cruise Line vessel. These accidents involve someone falling from the ship into the water. The falls are often due to negligence on the cruise line's part. For example, ship employees may fail to repair ship railings properly.
Bacterial disease: Bacterial diseases can spread throughout the ship, for instance, through water in hot tubs and pools. An example of a bacterial is Legionnaires' disease, which is somewhat similar to pneumonia.
Physical and sexual assault: Unfortunately, physical and sexual assault is an all too common occurrence on cruise ships. Whether in your stateroom, at the pool, or in the casino, the risk of being physically or sexually assaulted is high onboard a cruise ship.
Tender boat accidents: Tender boats are small vessels that transfer passengers from the ship to shore. Passengers and crew members can suffer serious injuries or even death if a tender boat accident occurs.
Food poisoning: Food poisoning is another potential danger passengers face on a Princess Cruise ship. Unsafe food handling practices and contaminated food can lead to gastrointestinal illnesses that can cause long-term medical issues for passengers.
Wrongful death: Negligent operators and negligent crew members can lead to tragic accidents that could cost passengers their lives. The surviving family members of a deceased victim may be able to bring a wrongful death claim against the cruise line or other liable parties.
Common Cruise Ship Injuries
Some of the injuries that occur most frequently on cruise ships include:
Spinal cord injuries
Head injuries
Hip injuries
Knee and ankle injuries
Illness related to food poisoning or bacterial infection
What Are The Deadlines for Bringing a Princess Cruise Ship Lawsuit?
When you take a cruise, you must first buy a ticket. Your ticket includes the terms of your passage on the boat. If passengers are injured while on board a Princess Cruises vessel, they must adhere to the terms and conditions outlined in their ticket contract terms. Typically, passengers must provide details of the accident in writing within six months of the injury to preserve their legal rights. They must file a lawsuit against the cruise line within one year of the accident. Cruise ship lines may choose the court where their personal injury cases will go to trial. For Princess Cruise Lines, the court is the United States District Court for the Central District of California in Los Angeles. You must abide by these time limits, or else you may no longer be able to bring your lawsuit and seek compensation.
Types of Compensation for Princess Cruises Injuries
You may be entitled to compensation for injuries on a Princess cruise ship. Depending on the circumstances of your accident, you may be able to seek damages for the following:
Medical expenses: Compensation for medical expenses may include the cost of onboard medical treatment, hospital bills, medications, doctor's appointments, and other healthcare costs related to the injury.
Lost wages: If you cannot work because of your injury, you can pursue compensation for lost wages. If the injury affects your ability to work in the future, you can also seek compensation for loss of future earning capacity.
Pain and suffering: Damages may also be available for pain and suffering experienced as a result of the accident. This can include physical pain and suffering as well as mental anguish.
Loss of consortium: Your spouse may be able to receive compensation if they have suffered a loss of companionship or other damage as a result of your injury.
Punitive damages: In certain cases, a judge may award punitive damages to punish the cruise line for careless or reckless behavior. Punitive damages should also deter other cruise lines from similar behavior.
Which Maritime Laws Apply to a Cruise Ship Injury?
It is good to understand that maritime laws may apply when it comes to cruise ship injuries. State law governs most personal injury cases. The terms that govern cruise ship cases are largely in the passenger's cruise ticket. However, these cases may also involve federal maritime laws.
One such law, the Jones Act, primarily applies to injured seamen, crew members, and others. It allows them to sue employers for negligence resulting in injury or death. However, a section of the Jones Act called the Passenger Vessel Services Act controls some aspects of cruise ship operation.
An experienced cruise ship injury lawyer can help you determine which laws apply in your case and what legal options are available. They can also provide guidance and advice on pursuing your claim and pursuing the maximum compensation for your injuries and losses.
Which Parties Can Be Held Liable for a Cruise Ship Injury?
Many different parties can potentially be held responsible for a cruise ship injury. Cruise lines, ship owners, contractors, medical staff, and other passengers are all potential defendants in a cruise ship injury lawsuit. Depending on the circumstances of the accident, there may be one or more liable parties. Generally speaking, the cruise line is primarily responsible for injuries caused by cruise line negligence aboard their vessels. They can also be held liable for accidents caused by employees or third-party vendors, like shore excursions. Additionally, if a cruise ship fails to provide adequate medical care, the cruise line or the doctor may be held responsible for any resulting damages.
How a Cruise Ship Injury Attorney Can Help
Cruise ship injury attorneys can help injured passengers pursue the compensation they deserve for their losses. Cruise ship injury attorneys are well-versed in the laws that apply to cruise ship injury cases. They also understand the unique contracts that apply to cruise ship companies. In addition to helping an injured passenger recover money, an experienced attorney can help them navigate the complex legal system and deadlines involved in a cruise ship case. A qualified Princess cruise ship injury attorney can help you hold the cruise line or other liable parties accountable for injuries due to their negligence.
Speak With a Princess Cruise Ship Injury Lawyer
If you were injured due to negligence while on a Princess Cruise, it's essential to speak with an experienced cruise ship injury lawyer as soon as possible. At Louis A. Vucci P.A., we are dedicated to helping victims of cruise ship injuries get the compensation they deserve. Our experienced attorneys have an extensive understanding of the law relevant cruise ship injuries and will work to ensure that your rights are protected. Don't hesitate to reach out today for a free consultation and learn more about your legal options.