Posted on Thursday, November 30th, 2017 at 12:02 am
Have you ever wanted to visit the Galapagos Islands? How about doing so in luxury and style? Well, if that trip has been on your list of things to do, Celebrity Cruises may have an option that you would enjoy. The Miami based cruise company announced that it is building a specialty ship named the Celebrity Flora that will sail to the famous archipelago located off the coast of Ecuador. This custom-built ship specifically for this particular voyage is a small-ship design which will hold only 100 passengers. Unlike the larger ships with interior rooms, balcony rooms, and suites, this ship features an all-suite design, with large floor-to-ceiling glass windows on entire decks of the boat, designed for viewing and connection with the beautiful surroundings.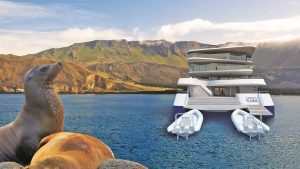 The new trend in cruise ships of this size, known as "expedition vessels" includes high-end amenities without all of the crowds on larger cruise ships. The Celebrity Flora will have two dining rooms, outdoor casual spaces, cabanas on deck that can be used to lounge under the stars, and three educational areas where passengers can learn more about the flora and fauna of the famed Galapagos islands.
Adventure and expedition cruises are becoming more popular, according to cruise industry insiders. It is likely that people are starting to gravitate to these smaller tours, with more personalized attention and fewer crowds. The educational and exploratory nature of cruises like this one likely appeal to those who are not looking for just a good time, but want to learn something along the way.
To learn more about the new cruise from Celebrity Cruises, read the entire story at the Miami Herald.
---
Posted on Friday, November 3rd, 2017 at 4:21 pm
In 2020, Virgin Voyages will launch new ships that will be for travelers ages 18 and up.
The company made the decision to launch the no kids allowed line after seeking input from travelers. The president and CEO of Virgin Voyages, Tom McAlpin, said that this customer input highlighted that people wanted to "set sail in an environment that felt more elevated."
The three ships will have room for 2,860 passengers. Some analysts say that it may be challenging to make such sizable ships successful without revenue from families.
The new ships aim to be more environmentally friendly. They incorporate technology that transforms heat generated by the engines into electricity. They will also include a new waste management system that could dramatically decrease the amount of waste the ship discharges into the ocean, instead turning it to energy.
Virgin Voyages is taking suggestions for what to name the new ships.