Tender Accidents: What Do You Need to Know
Posted on Tuesday, March 21st, 2023 at 8:03 pm
Tender boats, which transport passengers between an anchored cruise ship and shore, can be dangerous due to their size and unstable nature in heavy seas. This blog post explores what you need to know about tender accidents, including the common causes and injuries, as well as tips for staying safe when traveling on a tender boat.
Risks of Tender Boats on a Cruise Ship
When cruise ships anchor near destinations that do not have docks big enough to service large vessels, crews use tenders to ferry passengers from ship to shore and back again. Cruise lines that do not maintain their tenders or staff them properly put innocent people in danger. Some of the biggest risks of tender boats on a cruise ship include the following:
Collision with another vessel – Careless, distracted, or under-trained pilots risk crashing their tender into another vessel, which could seriously injure passengers.
Capsizing – Overcrowded tender boats could capsize, putting all their occupants in danger. The risk increases if the vessel is poorly maintained or not adequately equipped for the number of passengers on board.
Unstable loads – Tenders also become unstable with too much weight on one side, which can cause the boat to overturn.
Equipment failure – Inadequate maintenance and equipment failure can lead to fires, falling objects, and sudden loss of operator control.
Weather conditions – Wind, waves, and rain make tenders harder to operate and can even cause vessels to capsize.
How to Identify and Report Tender Accidents on a Cruise Ship
Knowing how to report a tender accident on a cruise ship can help you pursue compensation from the liable parties. Here is what to do:
Pay attention – Do not board a tender if it seems unsafe to do so. While on board, watch out for potential hazards, like standing water, loose railings, or rowdy passengers.
Report any issues immediately – If you notice anything out of the ordinary or suspicious, alert your tour operator or a crew member. Explain your concerns in detail and make an official complaint if necessary.
Seek medical attention – If you're involved in an accident while on the tender, seek immediate medical attention. Keep all records and receipts related to medical bills and treatments.
Document the incident – Take photos or videos of the incident if possible. Evidence is essential when claiming compensation or filing a lawsuit in case of injury.
Contact a lawyer – A lawyer can investigate the incident, determine liability, negotiate with the cruise line or their insurer, and take them to court if necessary to get you the compensation you deserve.
Safety Standards and Regulations in Tender Accidents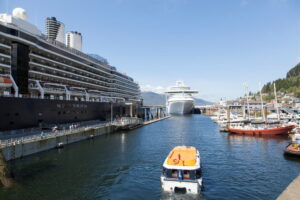 Cruise companies must ensure the safety of their passengers, which means maintaining safety protocols and procedures when operating tenders. Failure to do so increases the risk of accidents, for which the cruise line could be liable. Cruise lines may be subject to additional regulations depending on where they are flagged and where the ship was docked at the time of the accident.
You don't have to navigate these complex legal waters alone. A skilled cruise ship injury attorney can explain your legal rights, assess your situation, and develop an effective legal strategy to pursue the compensation you deserve. Contact a cruise ship injury lawyer with experience handling tender boat accidents for guidance and advice.
How to Protect Yourself from Tender Accidents on a Cruise Ship
Following these tips can help reduce the chance of an accident and protect you if one occurs:
Wear a life jacket or other floatation device if instructed by the crew to do so.
Pay attention to the instructions given by the captain and crew of the tender boat, such as when to sit down and hold on during the journey.
Be aware of your surroundings, particularly near other vessels and docks.
Refrain from reckless behavior, such as jumping on or off the tender boat or standing up when the vessel is in motion.
Speak up if you see any potential hazards on board the vessel or if someone's behavior poses a risk to others.
Speak With a Cruise Tender Accident Lawyer
If you or a loved one suffered injuries in a tender accident on a cruise ship, you could be entitled to compensation for medical bills, lost wages, and other losses. However, getting the cruise line or another liable company to pay up can prove challenging. Instead of trying to recover compensation yourself, get help from an experienced cruise tender accident lawyer as soon as possible. At Louis A. Vucci P.A., we have extensive experience handling these complex cases and can put that experience to work for you. Contact us today at (786) 375-0344 and learn more about our cruise injury legal services.