Understanding Your Rights as a Cruise Ship Injury Victim
Posted on Sunday, January 22nd, 2023 at 7:32 pm
A trip on a cruise ship is a fond, cherished memory for most travelers. For a few, though, it can result in a less pleasant experience. Sometimes, passengers suffer some harm or injury from an unexpected accident. An injury on a cruise ship can cause you to have costly medical bills and lost income if you are unable to work. You and your family members may be facing financial difficulties as a result.
How will you pay for your living expenses and medical bills, particularly if you can't work? Understanding your rights as a cruise ship injury victim is crucial to dealing with these issues. The experienced and dependable legal team at Louis A. Vucci P.A. can help you understand these rights.
Importance of Knowing Your Legal Rights on a Cruise
If you suffer injuries on a cruise ship, you must know your rights as they relate to recovering compensation. You are entitled to economic damages, which are those losses that are easily verifiable since they contain some objective basis of proof. You are also entitled to non-economic damages, which are harder to measure because they are subjective.
If you sustain injuries as a passenger on a cruise ship, the law entitles you to recover compensatory (economic damages) damages for:
Medical expenses, including doctor bills, hospital bills, and prescription medications
Lost wages if you are unable to work
Impairment of future earning capacity if your injuries cause long-term disability
If you suffer physical injuries, you are also entitled to recover compensatory (non-economic) damages for:
Disability
Disfigurement
Emotional distress
Loss of enjoyment of life
Pain and suffering
Federal law allows cruise ships to waive liability for emotional distress, mental suffering, or other psychological injuries unless they arise from physical injuries.
How to Determine Liability in a Cruise Ship Injury Case
In cruise ship cases, courts determine liability based on the failure to meet a duty of care imposed by law. The law of negligence applies in this situation. If the cruise line's failure to meet their duty of care directly caused your injuries, the cruise line may be negligent.
As a result, you have the right to pursue compensation for your injuries and other losses related to your accident. Examples of cruise ship negligence are failing to follow required safety policies and procedures or failing to maintain the ship in a reasonably safe condition.
Statute of Limitations for Filing a Cruise Ship Injury Claim
The law gives you a limited time to initiate legal action for compensation. Cruise lines typically insert provisions in their ticket agreements that state the time to bring a claim for injuries. Federal law says the minimum amount of time they can give you to file is one year. Most cruise lines opt for the minimum, giving you one year to file your case in a civil court and six months to give notice of your claim. Thus, time is of the essence when filing a cruise ship injury case.
If you suffered an injury on any of these cruise lines (and others), your ticket requires that you file your cruise injury claim within one year.
Carnival Cruise Lines
Celebrity Cruise Lines
Costa Cruise Line
Cunard Cruises
Disney Cruise Line
Holland America Line
MSC Cruises
Norwegian Cruise Line (NCL)
Princess Cruise Line
Regent-Seven Seas Cruises
Royal Caribbean Cruise Lines (RCL)
Silver Sea Cruises
How to Gather Evidence for a Cruise Ship Injury Claim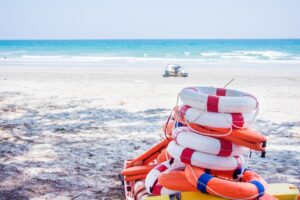 After suffering a cruise ship injury, you must gather evidence that supports the cruise line and its employees causing your injuries. You should return to the scene to collect any physical evidence or photos of the scene. Don't rely on crewmembers to help you, even if they have good intentions. After all, you may have to file a lawsuit against their employer.
Seek medical attention for your injuries and get copies of any relevant medical documentation. Take pictures of any visible bodily injuries. It will provide evidence of your injuries if you file a claim later.
Talk to any eyewitnesses who were present at the time of the incident. Ask each witness to give you a statement about the incident. Get the witnesses' contact information in case you need them later when you file your compensation case. Take notes of your witness interviews and anything relevant to the injury.
Contact the Legal Team at Louis A. Vucci P.A. Today
If you have suffered an injury or illness aboard a cruise ship, contact Louis A. Vucci P.A. to learn more about how we can help you seek compensation for your injuries. Our experienced team of cruise ship injury lawyers has the skill and expertise to handle your cruise line-related injury or illness claim. Contact us online or call (786) 375-0344 to schedule a free consultation.
Related Posts:
How to Stay Safe in Unstable Dock Conditions
How to Protect Your Property from Theft on a Cruise